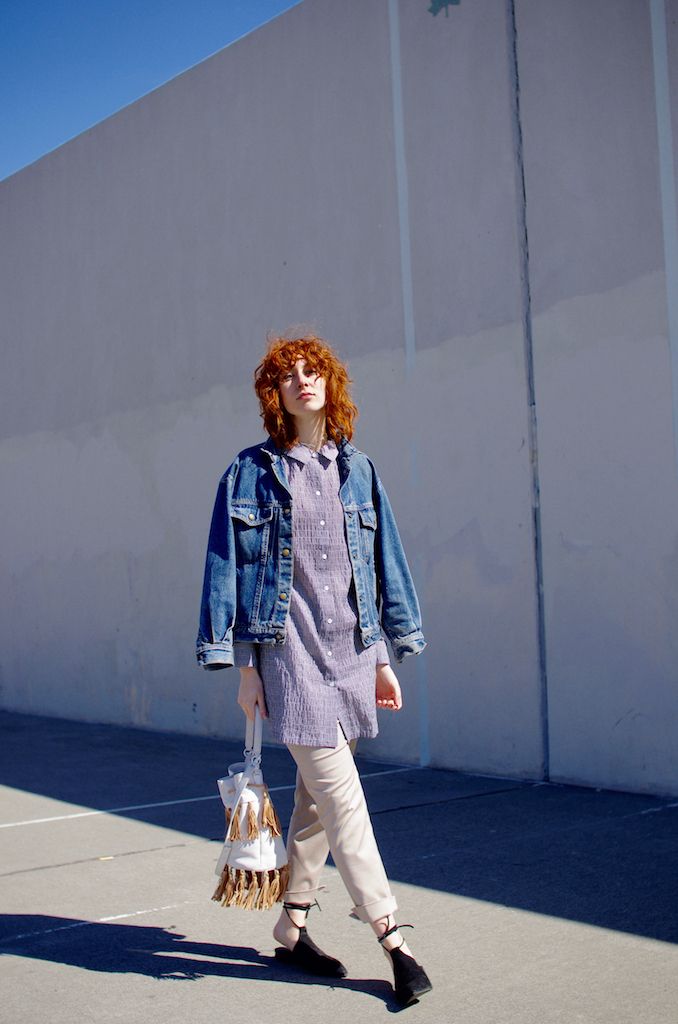 agnés b norya dress and pants (

℅)

, JC x Free People flats, Loeffler Randall bag, vintage Calvin Klein jacket
✿✿✿✿✿✿✿✿✿
The first time I ever heard of agnés b was through my mom.
As a design enthusiast in almost every conceivable area, my mother often mentioned the agnés b tunics and the catalogue photos of her youth when I was a tween and teenager. The agnés girl, she told me, was the way she'd wanted to see me dress. Mom was definitely a Francophile when it came to the clothes she preferred for her gangly and awkward 11-year old daughter- which, at the time, I couldn't be bothered to consider. All I cared about was the total number of garments I'd have to wear. Dresses required only donning one thing, so those tended to be the outfit of choice.
In other words, my mom wanted me to be the agnés b version of an ingenue of French New Wave films: simple, charming, and unpretentious- and I just wanted to play in the dirt.
I guess that covers unpretentious...
Nostalgia aside, agnés b's collections constantly build on the irresistible pieces she's been designing since the 60's. Now, this dress^, which you can ball up into a suitcase, and the crinkling and creasing would only add to its charm. My days of childhood preference are far from over (
sometimes
), so unlike my 8-11 year old self, I've decided to don this dress as a long tunic with pants underneath. Y'know, just to show her how far we've come....until summertime when I simply won't wanna wear pants
...or anything for that matter
☼☼☼☼☼☼☼☼☼