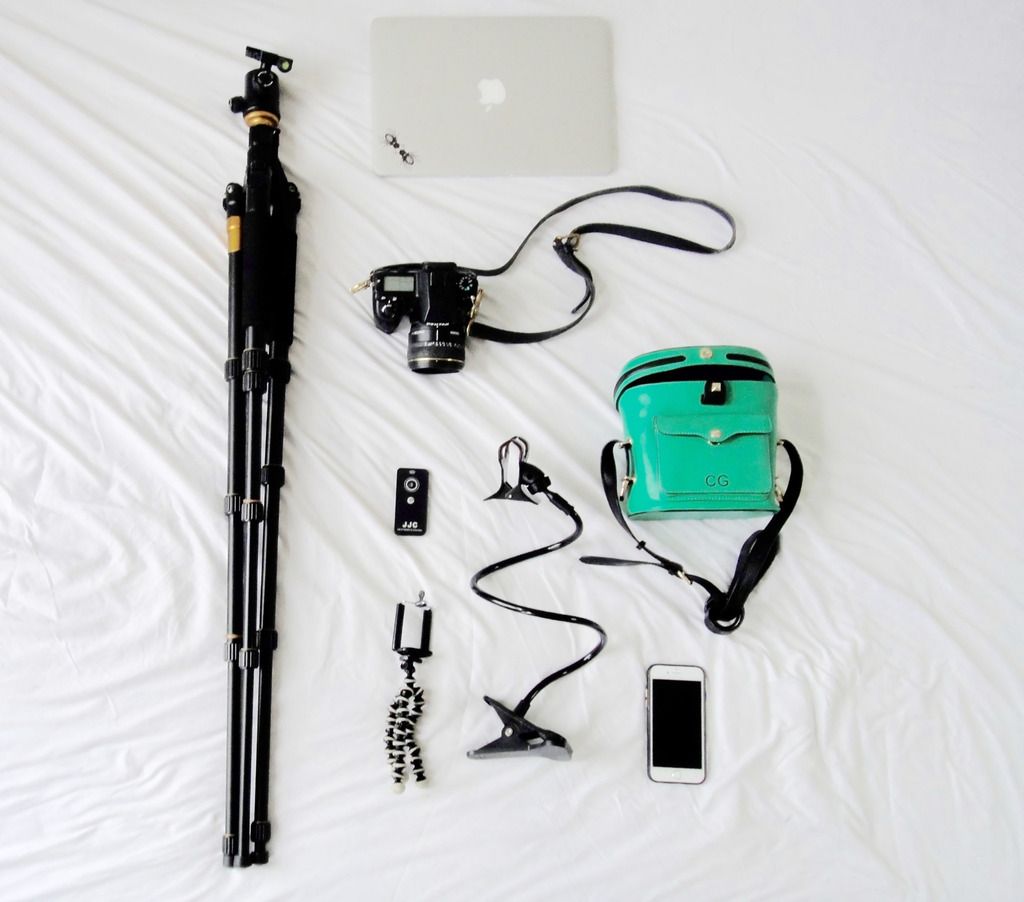 I get questions from time-to-time about what I use to shoot my posts. Researching cameras can be a whole project in itself, and I've found that building a kit that fits your needs is worth the time when you know how often you'll be using yours and what you feel is worth investing in.
My kit has been used almost every week for about 3 years, so it's well used. There are certainly pros and cons for shooting blog posts entirely by yourself, but that's for another blog post :] As for my kit, yeah, there are some pros and cons there too:
✌
My
Kit of Sorts:
Tripods
: -plural because I take most of my Instagram shots too. You want something that will hold up well with the weight of your camera. You don't want it to be barely sturdy enough for a heavier SLR. Manfrotto makes great ones that are pretty standard for prefesh photogs. This
Afaith
is solid and light, which helps when I have to lug it around the neighborhood to shoot, but still sometimes a bit too light, so I have to be careful when it's windy. It's also easy to fold super small and carry, but I managed to jam one of the legs on mine, and now it doesn't retract all the way. My bad.
Lens:
I'm gonna go ahead and put my lens before my camera for a couple of reasons: 1) Your lens is what makes the quality of your pictures determinable and 2) You can have a crap camera fitted with a beautiful lens, and the photos that you get from that combo will always be better than a beautiful camera fitted with a shit lens. Think of it this way: if a lens is comparable to the human eye, and the SLR is the brain which processes the information gained by your eyes, then the quality of what your eyes can grab will effect how easily you can discern the thing you are seeing (in this case, an image). thus, my lens is the most expensive thing in my kit because it's the one thing I needed to truly invest in, and yup, this lens improved the possibilities of what I could take tenfold.
Also, I suggest you watch
this video
on how Sigma lenses are made 'cause damn.
Camera
: Cameras are always a great source for discussion. In my experience, Pentax models can be just as good as Nikons and Canons, plus they're lighter on the budget.
The camera I use
is from 2010, not by any means brand spankin' new, but still shoots the way I like. The only thing I feel I'd get from an upgrade is probably faster settings and a lighter camera body, but I don't feel a rush to get the latest-and-greatest just yet. To get a nice shallow depth of field (i.e. how to get the background out of focus), you need to get the camera's f-stop down low enough. I achieve this with a 30mm lens attachment, which is an excellent investment lens to have in your kit. I think it's worth looking into buying gently used equipment, and you can always talk to your local camera expert, or visit/call
B&H
or
Adorama
to see what fits your budget and level of use.
Bonus: the strap on my camera is from a vintage 70's Coach bag.
Shutter
: Since this photo was taken, I've bought myself a better shutter:
this one
. Wireless remotes are easy to nab on Amazon in accordance with whatever camera you use. I hates the look of a hand holding the clicker, but luckily, many SLRS have a remote shutter option that shoots in 3-second bursts so you can shove the clicker in a pocket to free up your hand. This means I can fire the shutter, move, listen for the camera shot, and reposition. This saves a MASSIVE amount of time. For a loooong time I was taking shots by walking back-and-fourth forever like a dumbass.
Photoshop and apps: I get my photoshop from work and my subscription from school. Now Adobe offers Photoshop CC, which allows you to pay for a monthly subscription to photoshop a.k.a. edit your images without buying the latest version as it automatically updates. Do your research though, in my opinion, it's better to invest-or-cough-"get" your own program because Photoshop has access to your work through CC and you want to be able to own ya stuff, y'know?


For my Instagram shots, I use timer apps like
Clapmera
and
Snap Clap
. With both apps, you set off your phone's camera timer by loudly clapping your hands or making some other obnoxiously loud noise. Clapmera has a burst mode that will shoot every 3 seconds like my SLR does, but it needs a good amount of light and the quality isn't amazing in low light. Snap Clap doesn't always hear your claps and doesn't burst, but the picture quality is much better.
What cameras and equipment do you guys work with?
I'm all ears!